Driven by a passionate desire to "scratch our own itch", we released the first draft of a little project we've been working on this weekend. As our regular readers are aware, we built our first public website earlier this year. We started running ads earlier this summer (just to pay the server bills) and wanted some perspective on "what good looks like". This is where things get furry: there aren't any reliable and comprehensive public sources on revenue benchmarks for a small website. So we decided to build our own data set and create some benchmarks around how much a small website could earn. Here you go…
As you can see below, profit-per-visitor numbers vary widely. More after the jump…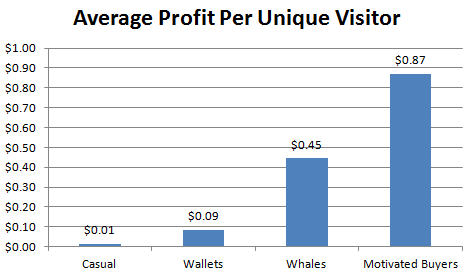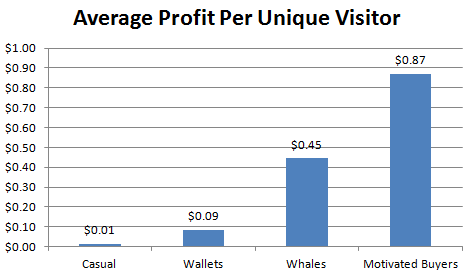 This survey was based on the seller disclosures from a 100 recent website sales on a leading exchange. This included a public due dilligence process during which the selling webmaster posted proof of their revenue claims and responded to any buyer questions. We used this dataset to compare the earning power of different audiences and internet business models. The results have been eye opening.
Some teasers for the main revenue study:
Almost 40% of the content sites in the survey were targeting audiences that are incapable of generating more than a penny or two per visitor. The key to making these sites productive is to maximize traffic and look for higher value advertising options and sponsorship deals.
Are you attracting search engine traffic from Google for a high value topic? This is where things got interesting – you should consider at eliminating the advertising middleman and working directly with merchants (or launching your own product).
While it is a lot of work, if you see an opportunity to launch your own product or service you should definitely go for it. Earnings from "house products" and online stores were an order of magnitude higher than for advertising supported sites.
Individual site results will vary but the underlying math is consistent across different website topics. There are basic factors in audience selection and monetization strategy that predict the magnitude of your site's revenues. This study will help you identify opportunities that have a reasonable chance of meeting your financial objectives.
We posted the full details of the study in this article (revenue models for websites) and a simple online website revenue calculator for the TL;DR crowd.
For those of you who like to flip websites, we also collected some fresh data about website valuations, which we used to tweak our website value calculator.